See the Porsche Convertible Worth N89million Intercepted By Nigeria Customs (Photo)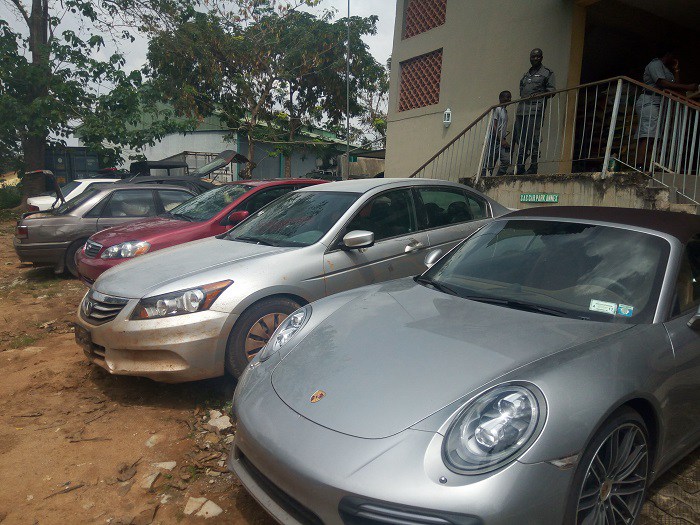 A Porsche convertible which is reportedly worth N89 million was seized after it was intercepted by officials of the Nigeria Customs Service (NCS) in Ogun State, according to a report by NewTelegraph.
Briefing newsmen, the state Customs Comptroller, Sani Madugu said that the porshe was intercepted alongside other choice cars. He further disclosed that two vehicles fully loaded with 220 bags of rice worth N2,420,000 as well as 21 kegs of vegetable oil were also seized by the command.
The comptroller listed the seized vehicles as a brand new Porsche convertible 911 Turbo (2017 model), Honda Accord 2012 model and Toyota Corolla 2007 model.
Madugu added that the Duty Paid Value (DPV) of the vehicles were N82,514,700, N4,050,000 and N2,700,000 respectively.
In a press statement, Madugu said: "We are making seizures, we are making arrests.
Previous week, we seized this Porsche 2017 brand new convertible car through the unapproved route in Imeko area. We have brought it down, even though the driver ran away with the (vehicle's) remote control.
"We are not deterred in the pursuit of our activities. We were able to bring it down to Abeokuta here. Other vehicles, like Tokunbo, were equally seized. We are fighting smugglers, we have declared war against them and we are on course.
"This particular Porsche is valued at over N80 million. The car is for the privileged few. But smugglers are running through the bush, they don't want to pay government duty. We have intercepted this and they have lost it to the Federal Government of Nigeria.